The best online resources to learn English for free.
Hi, My active English learner! Welcome back and see what we have today for you. As you deserve only the best of the best!
Be ready to look through these several effective websites to learn English for free. 
Probably, it's better to say the list of the best websites to learn English in the world! And it is a rock-solid truth without any overstatement. Honestly, I want to share with you these fantastic sites to learn English online.
It's a great pleasure for me to tell you, at least, about some of them. Read further to pick some of them and try. 
Effective Resources to Learn English for Free 2020
Do you know what all of the following English learning resources have in common?
The interactive approach of learning is a numero uno thing here
You may ask, "why is it so important?" The answer is obvious – interactive tasks, videos or any type of material for learning can be easily uptaken. Consequently, you will smoothly apply the English vocabulary and grammar in real life with a wet finger (з легкістю).
Combine everything in the process: training new words and phrases together with memorizing grammar rules. At the same time, you will practice these essential skills: reading, listening, writing even including speaking!
The sites below include various activities to make you put fresh English skills to practice and work for your successful communication. Are you ready to try these resources? Let's do it!!!
The best online resources to learn English can help everyone to make their knowledge of English better, to get something useful, new, and develop further.
learningenglish.voanews.com
This online service is tremendously useful for every English learner. The thing is that you spend simply 4-5 minutes per day and get the freshest news in the world through the audio information with the picture, video, or the whole text with the new words included there and absolutely ideal pronunciation.
Moreover, you can choose the level you think is the best for you to listen, learn new words and phrases or simply to liven up your English spending only several minutes a day. I personally use Learning English during my classes with students to improve their listening comprehension skills and make the lesson even more interactive and close to real English. As the following source of news is adored by users throughout the world.
The best online resources to learn English: Learning English. Great Resource from Voice of America
The best online resources to learn English: BBC Resource for FREE
The English We Speak – a new resource to learn and improve your English dedicating 2 minutes only. I like the way it presents the information: even if you do not understand the words you hear, you can still do it thanks to the properly selected pictures and videos. In such a way, the English learning process will become useful, less time-consuming and very effective. Try it and see the result! Choose your level starting from A2. Use Transcript if it is still difficult to grasp what they say)). What do you think of that?
www.bbc.co.uk/learningenglish/english/features/the-english-we-speak/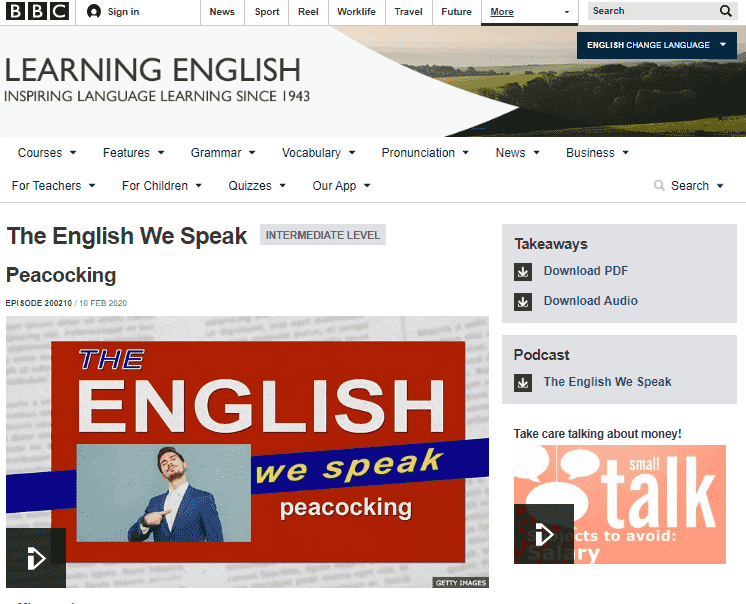 Learning Resource for Elementary English: Series online on Youtube
I decided to add to the list something far from learning, and this one is light and interactive. Simply watch, listen and learn what you like through British English and their "Extra" series on Youtube. It will be great for those who have an elementary English Level. You do not need to translate word for word, it's not the right way to watch English films and videos. The purpose here is to:
listen to natural English, or native English,
perceive the way they combine the words together in the sentences,
active intonation and pronunciation,
have fun and useful time spending
There are several more benefits for you to learn English easily:
the series are short;
subtitling available;
summary at the end of each series
there is a foreigner hero in the film who knows English but still, he is not a native speaker, that is why everyone around tries to correct him from time to time to make his English better.
The plot takes place in London and it means we can learn more about the city and improve our British English.
One more hint from me!!!!!! Watch one and the same series 3-4 times and see what you will get finally in terms of perception and understanding. Do not be afraid when you are just beginning to watch it, after a while, you will find their quick conversations simple for your head and great for your leisure time.
Enjoy films in English and spend your time productively https://www.youtube.com/watch?v=7dbxwGPUU3g&feature=youtu.be
Youglish is a wonderful service for me. It is one of the best online resources to learn English. With it you can choose any topic you like or what to listen to, just insert any word or phrase to the search line and get thousands of videos to watch 5-7 minutes. What will it give you???
You will discover various contents and contexts with the word you need;
The topic you are interested in will sound for you even more attractive through the virtual surrounding and English natural sounds;
you pronunciation level will definitely surprise you in a while
you can listen to, watch and read at the same time!
Is it not enough for you to try it right now?????!!!)))) Register for FREE and improve your English pronunciation and vocabulary through listening only 5 minutes real situations. It is very easy to use and have a great result. https://youglish.com/

These are not all the resources I recommend you to use for English Learning. I will continue to add more for you to enjoy the process of learning and be more effective. Share with me the online resources you know and like the most.